John Knox Village Foundation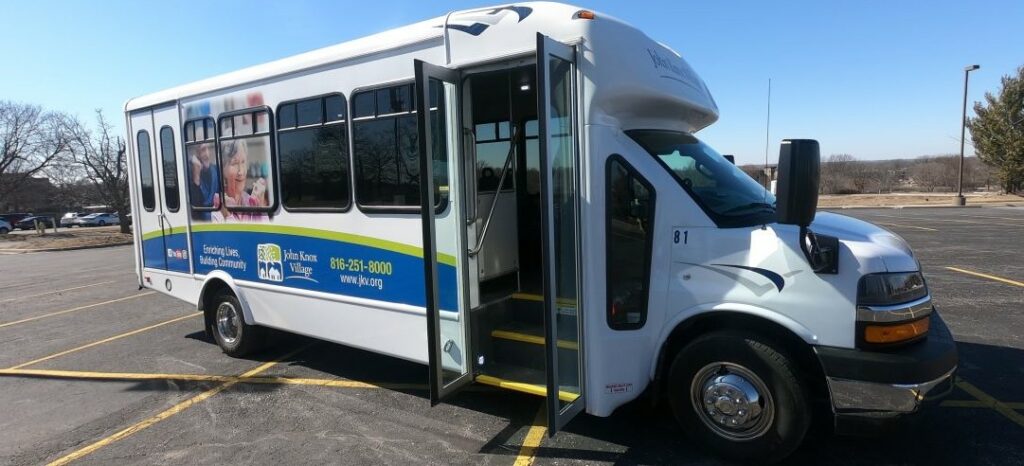 The John Knox Village Foundation was established in 1983 to bring joy, comfort and support into the lives of older adults who are residents of John Knox Village and beyond. The Foundation collaborates with residents and friends of John Knox Village to assist in funding facilities and programs that are vital in the Village's work to achieve its mission.
Ways to Get Involved
To learn more about our foundation, please email foundation@jkv.org or call 816-347-2384.

Empowering John Knox Village residents and beyond
When you donate to the John Knox Village Foundation, you're not just supporting our campus and residents. You're benefiting community projects and the Greater Lee's Summit and Kansas City communities.
The donations provide support for various ongoing programs, including financial assistance for residents who have outlived their financial resources, the Chaplain's Fund for spiritual care, Village Hospice, campus redevelopment and beautification, and resident activities. A few of the many projects made possible by gifts to the foundation include:
Interior renovations at The Pavilion
A state-of-the-art sound system at The Pavilion
The Courtyard Theater
The Meadows Fitness Center
Village Care Center Family Great Room and Chapel renovations

Village House*
Lake beautification project*
New ambulances*
Benches and lighting throughout the campus
*The Foundation worked with other organizations to fund these projects.
Give a gift today
Enriching the lives of older adults and our greater community is easy. You can donate to the John Knox Village Foundation online or via mail today.
Mail-In Donation:
Mail your check, made payable to "John Knox Village Foundation," to 400 N.W. Murray Road, Lee's Summit, MO 64081-1498.
E-Giving:
Electronic giving, or e-giving, is simple and convenient. There are two ways to submit an e-gift:
1. Via your bank. Use your bank's online bill paying system. (Contact us for information on how to set this up.)
2. Use our "Give Now" button and choose how you want to designate your gift.
Click the "Give Now" button so you can be transferred to a secure server to process your contribution.
Legacy Brick Program
Give a lasting gift and help beautify John Knox Village at the same time. You can purchase customizable bricks or stones for yourself or as unique gifts to honor loved ones or favorite organizations. Commemorate a special moment, dedicate a brick to a loved one, and donate to a powerful cause.
For more information, including a copy of the order form, download the Legacy Brick Program Brochure or contact the Foundation office at 816-347-2384 or foundation@jkv.org.
Good Neighbor Guild
The Good Neighbor Guild is a program that enables individuals to make small, monthly donations that collectively make a big difference at the Village.
Automatic "Bill Pay"* – The free bill-pay service offered by most banks also works very well for making regular gifts.  If your bank supports bill-pay and you would like to use it to support the John Knox Village Foundation, login to your online banking, navigate to the Bill Pay section, and set up your regular donation.  The bank will automatically send a check to arrive on the date you specify each month.  You will see your donation on your bank's monthly statement.  You can always change the amount or cancel the service.  Here is the information you will need:
John Knox Village Foundation, 400 NW Murray Road, Lee's Summit, MO 64081, 816-347-2384
*Automatic bill pay is the preferred method for making recurring gifts. The Foundation receives 100 percent of your donation without any transaction fees deducted. Most other methods cost us 2% to 5% of your donation.
Credit card – For monthly gifts made via credit card, visit our secure giving page at www.jkv.org/foundation and click on the "Give Now" button. In the "Payment Information" section, select the "Multiple Payments" option. You can choose the amount of your gift, the frequency and the number of payments. You may cancel at any time by calling your credit card company or by calling the Foundation.
Raise a Roof for EMS
John Knox Village and the John Knox Village Foundation are excited to announce a new fundraising campaign that will have a positive impact on residents, associates and members of the surrounding community for years to come!
The Foundation is launching a campaign to "Raise a Roof For EMS." The fundraiser aims to help build a new headquarters for the John Knox Village Emergency Services Department. In addition, funds raised during the 2021 John Knox Village Gala also will be directed to the campaign.
"The job of an EMS professional is highly stressful, and after completing a call, many times members of our EMS team want to sleep or just be alone to get some down time, and there just isn't room to do that," said Brian Opoka, director of public safety.
The current quarters are cramped and do not meet the specific needs of the EMS team. Creating a more suitable space is important for the physical and emotional well-being of the Village's EMS associates. Because they work in 24-hour shifts, associates answer calls at all hours of the day. They sleep intermittently as call volume allows.
"Although the exact plans are still being developed, we know it is a vitally important project that will have a positive impact on all members of the John Knox Village community," said Gail Benne, president of the John Knox Village Foundation. "A new EMS headquarters will provide the space needed to house emergency vehicles, supplies and equipment under one roof, and it will allow for EMS staff to have the room they need to provide the highest level of service to residents of John Knox Village and Lee's Summit community."
More details will be shared as the project moves through the development process.